---
Post Cancer Care
---
You have just undergone therapy, which may have been surgery, chemotherapy, radiotherapy or immunotherapy (or even a combination of therapies). Either way, the body has been subjected to a considerable amount of stress, trauma and injury and you need time to recover physically and emotionally. You may also be on quite a few other medications to treat your ongoing symptoms or counteract some of the side effects from treatment (e.g. pain killers, anti-sickness medications, etc.). Being fit and well may feel like a distant memory with the current loss of your independence but it is important to take each day as it comes and set small achievable goals. Make sure to pat yourself on your back and congratulate yourself when you attain your goals, however small. Resting well, eating well (a balanced diet of course), trying to find the small pleasures in life to enable you to feel happy, having the people you love around you will all help with the healing process. Don't feel pressured to doing things you feel your body isn't quite ready to take on yet but equally, try to keep motivated and focused on getting yourself up and running; there will be some good days and bad days. Remember, the healing process takes time and you do need to try to keep a positive mind – all in good time.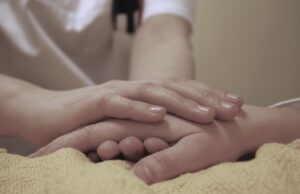 ---
Sharing The Real-life Experience of Cancer
---
'The Expert Patients & Professionals'
You may feel rather isolated knowing that you've just had treatment for cancer but you are not alone. Here are two fantastic websites that will allow you to listen to first-hand accounts of cancer patients sharing their real-life experiences.
Macmillan Cancer Support also have a useful webpage called After Treatment and a dedicated confidential support line for people living with cancer and their loved ones on 0808 808 0000 (7 days a week, 8am – 8pm). The Oxford Psychological Medicine Centre has a selection of videos providing an overview of cancer care by different healthcare professionals, which is well worth a look.
Whilst it is obviously important to improve your general health and to build up your physical strength, there also needs for an awareness of the psychological burden associated with a cancer diagnosis and having undergone some form of treatment. Please take a look at Health & Wellbing Ideas but especially the sections on What is Psychological Therapy? and Self Help Guides, Apps and Books. Most importantly, be kind to yourself.